RS Research Announces Poster Presentation at the ESMO TAT 2023 Congress
15 March 2023
---
RS Research, a clinical-stage biotechnology start-up developing smart nanomedicines for targeted chemotherapy, announced the acceptance of a poster presentation at the European Society for Medical Oncology Targeted Anticancer Therapies (ESMO TAT) 2023 Congress on 6-8 March in Paris – France, being known as "The Home of Phase I in Oncology".
RS Research's platform technology allows designing targeted drug candidates for different indications, which yields into development of the company's own portfolio consisting of 5 drug candidates, as well as an important co-development potential. The nanocarriers introduce a versatile targeting capability and are suitable for loading a single or a combination of chemotherapeutic agents, with superior pharmacokinetic profiles while the targeting enables the drugs to accumulate in the tumor ensuring an enhanced therapeutic index and thus offering reduced toxicity profile.
RS-0139 is the lead candidate in Phase I clinical trial, aiming to deliver docetaxel specifically into integrin receptor expressing tumors such as NSCLC, breast, ovarian, prostate and pancreatic as well as head & neck carcinoma. RS Research Co-Founder and CSO Prof. Rana Sanyal, PhD and Medical Director Gülşah Nomak, MD presented the candidates' promising preclinical data at ESMO TAT 2023.
Poster Title:      RS-0139, a novel tumor-targeted delivery of docetaxel, with potent anti-tumor activity in a broad spectrum of tumor cell lines and xenograft models
Date:                   6 March 2023
Location:             Hall Bordeaux
Poster No:           100P
Presenter:          Prof. Rana Sanyal, PhD; Co-Founder & CSO, RS Research | Gülşah Nomak, MD; Medical Director, RS Research
The poster abstract is available online at the ESMO TAT 2023 website.
RS Research
RS Research was founded by Prof. Rana Sanyal and Sena Nomak to take the necessary steps for bringing innovative therapies to patients, carrying out the research to clinic based on the proprietary drug delivery platforms SagittaTM Bir and SagittaTM Dui, patents covering 58 countries. Thanks to this technology, RS Research can increase effectiveness of chemotherapy and reduce side effects. The nanomedicine taken into the cell thanks to the targeting module that recognizes the receptors on the tumor surface, releases the active substance here, showing its full effect only to the tumor. The nanomedicine is released only when it is in the tumor after the targeting moiety recognizes the cell surface receptors. RS Research raised 2 million Euros seed funding in 2017, followed by a 12 million USD Series-A investment round in 2021. The company developed 5 drug candidates designed based on SagittaTM platform technology addressing multiple indications in its pipeline. RS-0139's ongoing Phase I clinical trial has advanced to the next dose level following the positive review of the safety data by the Independent Data Monitoring Committee (IDMC). Further details regarding the clinical trial are available at clinicaltrials.gov with the trial identifier NCT04261413. RS Research is manufacturing its clinical research products at its own GMP-licensed production facility with both synthesis and filling capability drugs.
For detailed information:
For media inquiries: pr@pdcbio.com
For scientific inquiries: medicalinformation@pdcbio.com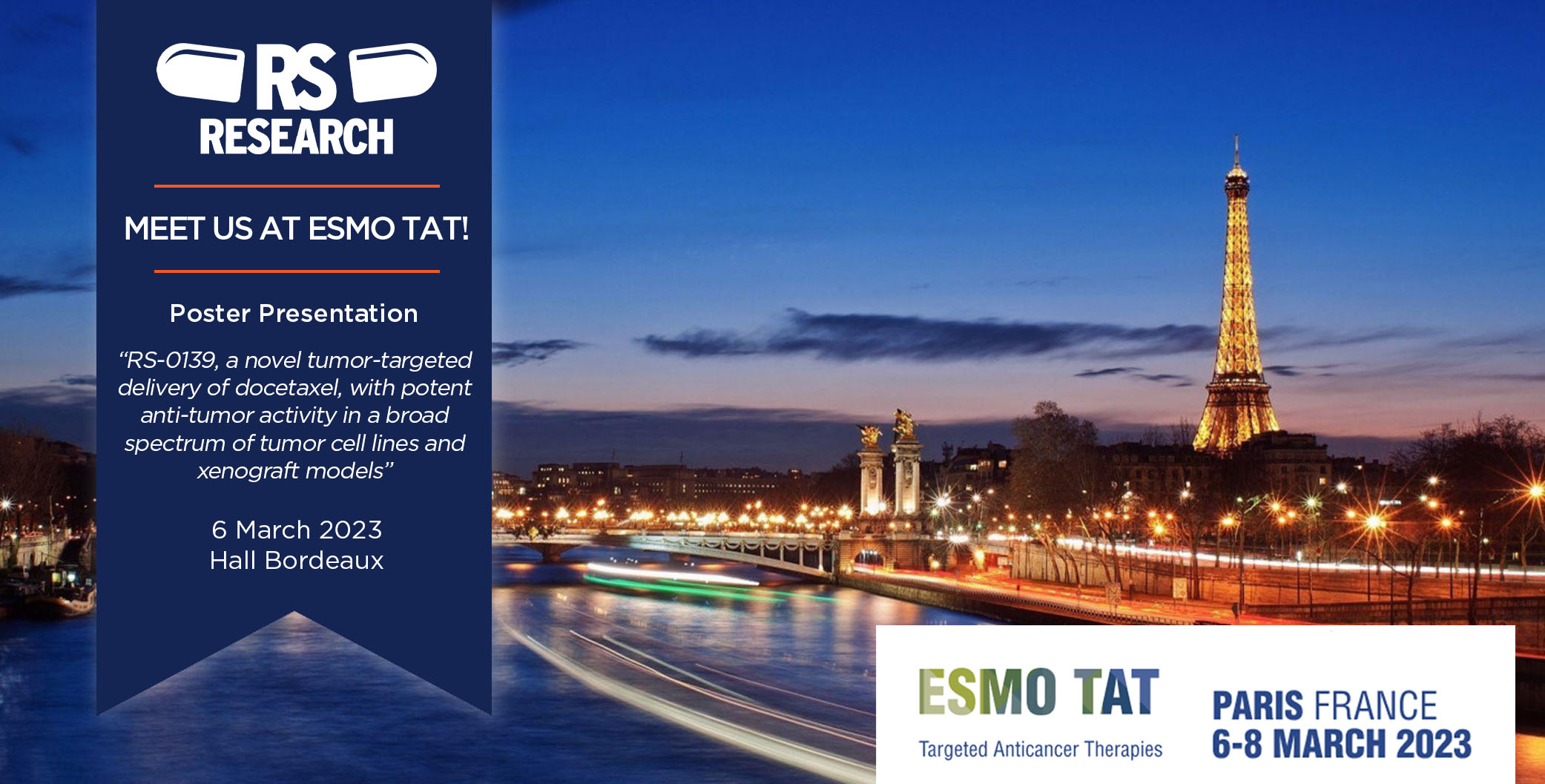 https://rsresearch.net/wp-content/uploads/2023/02/ESMOTAT2023.jpg
1057
2083
admin
https://rsresearch.net/wp-content/uploads/2020/05/rs_headerlogo.png
admin
2023-03-15 12:10:34
2023-03-24 11:58:08
RS Research Announces Poster Presentation at the ESMO TAT 2023 Congress